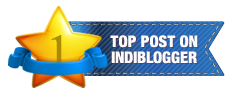 Like most Indian kids, I was brought up in a family that constantly 'encouraged' me to study harder and do well enough to make our relatives jealous. Marriage, love, boyfriends were taboo subjects, so much so that I was convinced that my parents had no intention of getting me married and would make me study for the rest of my wretched life. The only time my Mom did mention marriage was when I refused to eat fish. She'd bemoan my un-Bengali like habits and prophesy that I'd get married to a rice and fish loving typical Bengali boy.
I did get hitched to a guy who loves his fish as much as he loves me. Since marriage is all about trying to change each other for the 'better', I have now evolved into a fish loving person and he has his baigan ka bharta without a murmur of protest.

Over two years of having the freshest seafood of all sizes and shapes from the seas of Australia, so under-spiced that you can taste the salt water that your dish ingested, I consider myself a sort of connoisseur. In fact, the last time when the husband kept the Salmon almost raw, because it was so fresh, I forked it into my mouth without going blue in the face.
Whole Red Snapper
Last week, when Sangeeta Khanna, a friend I admire and whose food blog is the holy grail of healthy eating asked me to join her for a fish degustation lunch hosted by Le Meredien, New Delhi, I promptly accepted her gracious offer.

We were a cosy group of six including Anasuya Basu, Le Meredien's Director of Marketing Communications, high on shared camaraderie and a belly full of expectations, once we had gone through the menu for our luncheon. The restaurant, Le Belvedere, on the 20th floor of the hotel, gives a panoramic view of Lutyen's Delhi. Despite the smog, we couldn't help but admire the view.
Pomfret in Black Bean Sauce


The Juicy Scallops
The

seafood spread was a sight to behold and we spent a good ten minutes just clicking pictures. The restaurant flies in all their seafood from Kochi and the scallops from Canada.
Glistening scallops sitting primly on a bed of juicy Shitake mushrooms and crunchy snowpeas, flavoured delicately with chilly bean sauce were the plumpest I've ever seen. The Pomfret served in black bean sauce was passable and I found it too bony to tackle with my fork. The Red snapper batter-fried (unnecessarily so) whole and dunked in XO sauce was tender, cooked just right, the sauce adding just the right zing. But the star of the show was the lobster - tender, fresh, expertly-spiced; with
juliennes of red chillies complementing its taste.
Most restaurants in India prefer serving the classic French version – Lobster Thermidor doused in butter and cheese, with a side of guilt; I was pleasantly surprised by Chef Balkrishan Khurana's version. We ended the entrées with generous chunks of Sea Bass with skin, seasoned with black bean sauce hit just the right notes.
Sea Bass in Hot Bean Sauce

I
The Lobster - a sight to behold
shamelessly asked for a repeat of scallops and between sips of wine and raucous laughter over shared anecdotes, we all promised to meet again.

Before I finish, I must mention the desserts. Chef Balkrishan insisted that we try their date pancakes and toffee banana.
Since I was full to my gills, I decided to skip desserts but did take a nibble of the date pancake which was a filo parcel with a date centre. It was light and not cloyingly sweet. The toffee banana looked decadent and was polished off by others.
Sangeeta Khanna has shared the recipe of Pan roasted king scallop in chilly bean sauce here.

Le Meredien starts their seafood promotion from 14th of this month, a good excuse for you all to sample their delicious fare.
The Big Fish with Small Fish