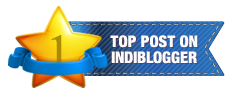 This is a story about Shivaji Roye, a fearless cop with a fear of cockroaches, who works for Haryana's Crime Branch and drinks a lot of adrak chai but without sugar because it's bad for his figure. Shivaji or Shhh as his wife of 3.8 years often calls him when he talks too much and bitches about his colleagues, is no ordinary cop. He's sensitive, loves watching romantic movies on TV, hates cricket , loves buying shoes with heels and never refuses to file an FIR. A passionate cook, he often gives his wife, his junior, loads of work so that he can get home first and cook piping hot dinner for her.
A few weeks back when he went for a vacation to Mussourie with his wife and his loving mother-in-law, he would wake up every morning in tears. How could he not! The sight of the sun popping out like a glistening egg yolk from behind the mountains was sooo beautiful!

Shivaji had become a cop to make his parents happy. But, instead of blaming them for ruining his life, he dedicated his career in ruining the lives of misogynists that blame women for all offences meted on them and sympathize with the hormonally imbalanced culprits – in other words, the geriatric Khaps. Every week he would go to villages force-feeding chowmein to the custodians of women's morality. Anyone who dared refuse him was subjected to a heeling experience by Shivaji's six inch stilettoes and made to read Arundhati Roy's 69 page essay 'Algebra of Infinite Injustice' translated in Hindi.

Other than gastroenteritis, no one had any other complaints. The hormone levels remained the same but the Khaps were now grudgingly accepting that men could be responsible for rapes. Women were still getting killed for honour and lust but they could now die in peace without having to put up with the ignominy of being held responsible for their own deaths. Shivaji was now planning to urge all the Khaps to ditch their pagdis and dhotis for Jeans. He felt, with the right part of the body getting aired, he could usher in winds of change and put an end to love within your Gotra or else die mindsets.

Life was rambling along peacefully like a tractor on mustard fields till one not so fine morning it was toppled over with the news of Munni's disappearance. Munni, a young spunky girl from Jharsa, had won Shivaji's heart by tying a Rakhi. She was the sister he never had. Both would often go shopping together followed by golgappas and lots of selfies.

Shivaji was now a man on a mission possible, ruthlessly interrogating Munni's friends and Facebook friends till he stumbled upon a lead that takes him to the many lanes and bye-lanes of Chandni Chowk and a quick tasty stop at Paranthe wali gali. Just as he was preparing to click photos of the yummy thali with its assortment of chutneys and sabzis, he caught a glimpse of a pair of embroidered jeans that it could only be Munni's, hanging from the telephone wires overhead. In retrospect, Shivaji thinks that it was part of God'a plan to make his stomach grumble just as he was passing Paranthe wali gali. Had he not made that fateful stop there, he would never had caught Bangaali, the dreaded bride trafficker, who exported Haryanvi brides, a novelty for ineligible bachelors in Best Bengal.