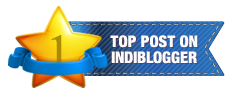 'This post is a part of #UseYourAnd activity at
BlogAdda
in association with
Gillette Venus
'.
Five years back when I left my job as a high school teacher, my friends thought I was mad. A part of me believed they were right. I had no idea what I'd do next, just an overwhelming desire to live life on my own terms. I'd be lying if I said it was I who took the decision. But when your work starts making you bitter and not better, it's your nearest and dearest ones who intervene and force you to take a long hard look at yourself. In my case it was my husband.

At 40, I joined a dance class and learnt to pirouette, plié, jump and leap with girls younger than my daughter. I learnt driving yet again only to not drive, yet again. I reconnected with my school friends and finally got down to doing what I wanted to all my life – write. The first time I took time off work was when our daughter was born. I was naïve enough to believe that between my new found role as Mother Dairy and changing nappies I would find time to pen my thoughts. I did manage some juvenile poetry where I mostly end up wondering if I was wasting my life. I think this is one of the reasons why we are so apprehensive of being alone with our thoughts. Our mind, a repository of our fears, throws back at us some unpleasant questions that we avoid by keeping ourselves busy.

When I finally got solitude and plenty of 'me time', I was so ecstatic that instead of fighting my inner demons, I chose to write how it felt unshackled from the monotony of my nine to five life. At this point I had no idea what a blog was. When I finally compiled all my write-ups that I had written for other sites, I ended up creating a separate blog for each of my posts. Yes, that is how naïve I was. All I knew was, I had to write like I was talking to my impatient friends whose attention I had to grab by sounding as funny as possible. I wrote about the much dreaded 'auntydom', 'a mirage called marital bliss' and my life through the eyes of a much married woman trying make light of her experiences in a jungle called Delhi. To say that I was shocked that scores of men and women, including a group of friends in a college in Lucknow related and avidly discussed my writings, is putting it mildly. It required immense will-power not to do a happy jig when I started getting fan mails.

I didn't start writing to prove a point, to earn accolades. I write because it makes me and hopefully others happy. It helps me connect with so many talented people who I would not have met otherwise.